While the world is basking in the aftermath of the blitzkrieg that is called 'FIFA 2014', let's dive into a golden moment of the INDIAN FOOTBALL HISTORY!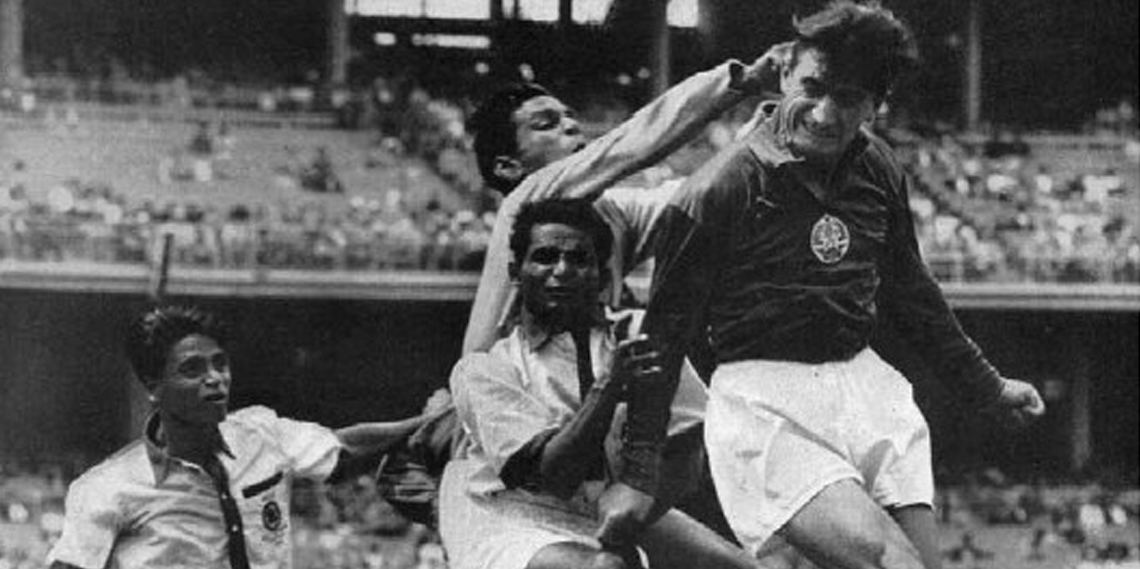 India, since both the pre and post independence times, has proved its mettle at almost every thing it has set its feet to. Literature, Politics, Theatre, Films, World Economics, Hockey, Cricket and FOOTBALL are only a few areas to name.
Some episodes in history are timeless. They outshine contemporary feats and appear as distinctly in time as the fixed pole star in the sky. The year 1956 is still a milestone for the Indian Football Team. After being denied their rightful entry to the 1950 Football World Cup because of inconspicuous reasons, the Indian team went on to achieve glorious victories in the 1951 and 1962 Asian games. The year 1956 is another feather in the hat of the Indian Football team because that is when India not only participated in the Olympics but also finished fourth. It helped her gain global recognition as a country that represents determination and strong will power. India gave a dauntless performance against its Australian hosts and defeated them with a triumphant 4-2 victory. The world had not expected that this could come from a country whose first decade to freedom was yet to be completed. A nation that had long been victim to the divide and rule policy exhibited the best prototype of national integrity and secularism. The players demonstrated true Indian spirit on foreign lands. India became the first Asian country to play the Olympic Football Semi-finals.  United, we did stand!
Neville D'Souza became the first Asian and the sole Indian to rack up a hat-trick at the Olympics. He secured 4 goals in 3 games, and held the joint position of being the top scorer, making India the first Asian team to reach the Olympic semi-finals. Many other competitors lost to India, and saluted her potential.  India saw a couple of golden years in soccer from 1951 to 1962. But the era was short-lived. The craze for football took a bell curve, masked completely by its other counterparts, especially cricket. Soon cricket became the other synonym for sport all over India for decades to come.
Though cricket today is still more popular than football, India is trying its level best to revive the charm it once created. It is up to passionate sport lovers to draw inspiration from the golden era of Indian football and breathe life into this game once again. With a hopeful heart, something then echoes in our minds… a few words of the legendary poet P.B. Shelly, "If winter comes, can spring be far behind?".